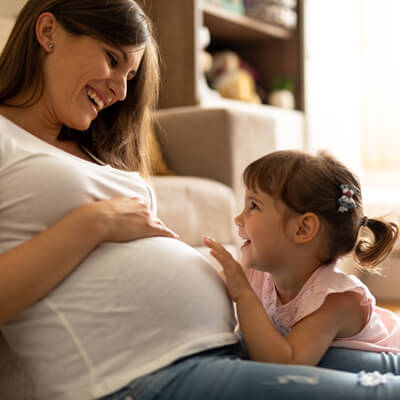 Pregnancy Chiropractic at Johnson Chiropractic
While many might not see a connection between pregnancy and chiropractic, it's a completely safe, effective, gentle, and all-natural form of health care for Mom and Baby. We help moms get better, feel better, and stay healthier, which helps the baby be healthier too. It's a win-win situation!
New Patients

How Does Chiropractic Help?
When Mom is expecting, it's more important than ever to make sure her body is functioning at the highest level. Having her nervous system working at an optimal level may help both a mother and her child during these four stages:
Pre-Conception—Chiropractic care prior to conception prepares the body to be as strong, supple, and balanced as possible to carry the pregnancy.
Pregnancy—Regular chiropractic care helps maintain uterine ligament flexibility and balance. When the baby is comfortable, moving to an optimal birthing position is easier.
Labor and Delivery—Our moms who receive regular adjustments during their pregnancy generally have a faster and easier delivery, with less intervention.
Postpartum Care—Getting adjusted after the baby is here helps restore balance to the pelvis and other joints, so Mom can heal quicker with less discomfort.
Pregnancy puts a great deal of stress on the pelvis and body in general. The woman's body goes through a lot of changes in preparation for delivery. These changes may cause discomfort; chiropractic ensures everything is properly aligned and functioning, reducing the pain, and relaxing your muscles.
Tools and Techniques
At Johnson Chiropractic, we want you to be comfortable. Our specially designed tables allow you to lie on your belly during your adjustment, throughout the entire pregnancy. We can work on you in various ways to meet your needs and comfort level.
Typically, we use a much gentler mix of Diversified and Thompson Drop techniques for best results, based on Dr. Johnson's extensive knowledge of how the body functions.
We're Here to Help You
Ready to book an appointment? We would love to help you prepare for your new baby. Contact us today to get started.
---
Pregnancy Chiropractic Layton UT | (801) 444-1002